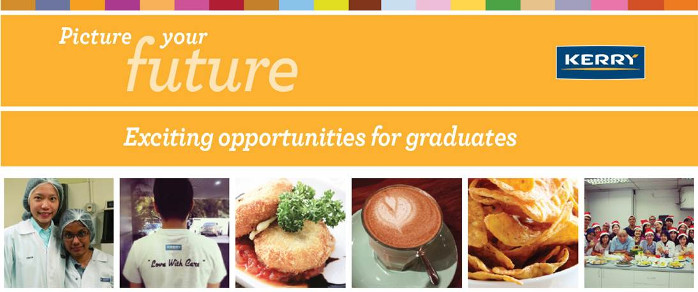 Our graduate programme
Kerry
---
Our Graduate Programme
Please visit our website www.kerrygraduatesasia.com
We have vacancies available in the following disciplines:
Finance
Finance sits at the heart of Kerry, impacting every division of our business and helping us deliver our strategy and vision. All Finance graduates are encouraged to study towards a CIMA or ACCA qualification and receive a generous study package including financial assistance and study leave.
Location: Malaysia
Operations
Kerry Group's multi-site production facilities offer Operations Graduates a dynamic environment in which to gain valuable experience running your own production line and being responsible for people management, raw materials, quality and costs. The pace is fast and within six months you could be in charge of your own production team.
Location: Malaysia
Procurement
The Procurement Team are key business partners central to leading cross-functional category management, managing commodity/ category risk, driving and delivering cost reductions and competitive advantage. Graduates will join as Procurement Analysts working on projects to manage Kerry's spend on Direct Materials and Indirect Materials and Services. After 12 to 18 months high performing graduates may progress to Project Manager or Global Buyer roles.
Location: Malaysia
Supply Chain
As a Supply Chain Graduate in Kerry, you will play an essential role in internal co-ordination between production, finance, purchasing and customer service, to ensure the operation is able to meet customer's demands through efficient balance of materials and the finished goods supply chain.
Location: Malaysia
Research & Development
As a R&D Graduate you will play a key role in anticipating and developing the products that will meet the needs of our customers- ensuring our continued growth and profitability.
Location: Malaysia
ICT (Information and Communication Technology)
Kerry's ICT professionals working in small business-focused teams develop, support and enhance a wide range of applications ranging from initial data capture at the point of transaction through to the most sophisticated analysis and presentation to senior management. Kerry's ICT function is also key to our acquisition programme through the implementation of common applications on a global basis, embracing multiple product groups across wide geographic territories with diverse cultures, languages and trading structures. Kerry's ICT function is also heavily involved in our SAP Deployment Programme – KerryConnect.
Location: Malaysia
QA (Quality Assurance)
Quality, Health & Safety and Environment (QHSE) is the key cornerstone in any organization. It is a business imperative to provide a safe and healthy workplace, respect the environment in which we work, and to provide a product that meets or exceeds the expectations of our customers. We have to be better than the competition in order to drive organic growth, delight our customers and win in the marketplace.
Location: Malaysia