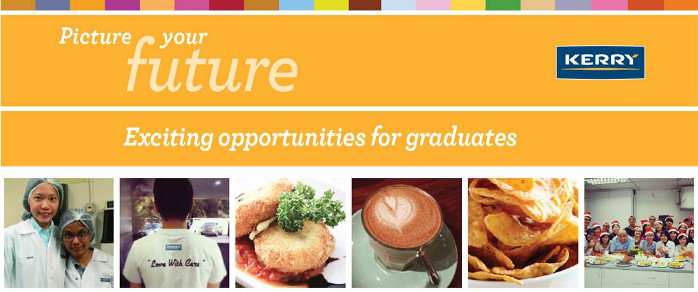 About Kerry
We're the largest and most technologically advanced ingredients and flavours company in the world, delivering innovations in taste, texture, nutrition, appearance and functionality. We supply over 15,000 ingredients and flavours to many of the world's biggest names in the food, beverage and pharmaceutical markets. This means that every day millions of people worldwide consume food or beverages containing Kerry's Ingredients and Flavours.
Our presence in Asia spans Malaysia, Singapore, Thailand and Australia. Our Asia business is poised for growth, and we have excellent opportunities available for energetic and motivated graduates who are ready to take on real responsibility in the real world.
Our Graduate Programme
We're looking for energetic and motivated graduates just like you to join us in a number of different functions including research and development, finance, operations, purchasing, quality assurance, regulatory affairs and supply chain.
Our world-class offering includes:
2 year Management Programme
A real role with real responsibility from Day 1
15 day offsite training
Ongoing 'on-the-job' training
Coaching and Mentorship
Flat structure enabling easy access to Senior Leaders
An accelerated path to a management position
Find out more and apply now at: http://www.kerrygraduatesapac.com/