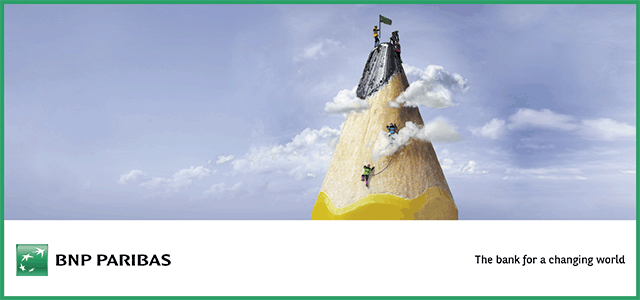 BNP Paribas Graduate Programs and Jobs
We serve our customers in 75 countries, and we've been strongly rooted in Asia Pacific since 1860. We have more than 12,000 employees in the region and operate in 14 markets.
BNP Paribas currently has 0 opportunities.
Select the following options:
WELCOME TO TOMORROW
We know what we want for our future – do you have a vision for yours? For us, it's ensuring that we continue to drive the growth of our business in Asia Pacific. We have an exciting long-term plan for expansion in the region, and to achieve it, we need the right people. If you share our vision, we can offer you a career, not just a job; because the key to our own growth and development is to enable yours.
We serve our customers in 74 countries, and we've been strongly rooted in Asia Pacific since 1860. We have more than 12,000 employees in the region and operate in 14 markets. Now, we are poised for growth and are prepared to invest in your talent to make it happen. That's why we're focused on your tomorrow. Today.
The Bank For A Changing World
Becoming one of the most robust banking groups in the world didn't just happen by accident. It's the result of the efforts of our people – more than 189,000 of them – and our global footprint. But it's also because we are passionate about ensuring that our business is as diverse as possible. We provide our customers with:
Retail Banking & Services
Corporate & Institutional Banking
This scope is why we were profitable during the global financial crisis. In 2015, our revenues stood at approximately €42,938 million, up by 9.6% compared to 2014. This strength is underpinned by our impressive liquidity position. At 31 December 2015, our fully loaded Basel 3 common equity Tier 1 ratio was 10.9%. We also have a rigorous and effective risk management policy. Therefore, we are well positioned to continue this story of growth in Asia Pacific.
Asia Pacific Graduate Pogramme
Our comprehensive 24-month graduate programme will provide all the support and development needed to kick-start a successful career with us. You can join us in one of our many Business Areas or Support Functions. No matter where you choose, you will have genuine responsibilities from the very first day. You will join a team of experienced professionals who will facilitate your personal and professional growth with their guidance and expertise.
You can apply for the Asia Pacific Graduate Programme should you meet these criteria:
Analyst
Recently graduated, final year undergraduates, master's students
No professional work experience post qualification
(except internships, apprenticeships, short-term attachments)
Bachelor's degree or equivalent in any discipline
GPA of 3.3 or above (or equivalent)
Fluency in English
Associate
Final year students only
Full time MBA or equivalent, plus 3-4 years' pre-MBA work experience
Fluency in English
Apart from a strong academic track record, we're looking for agile-minded, well-rounded individuals who: 
Take initiative
Possess strong analytical skills
Are adaptable
Act with integrity
Are client focused
Are results driven
Possess strong decision-making skills
Enjoy teamwork
Asia Pacific Summer Internship Programme
The 10-week summer internship programme is an opportunity for you to learn more about BNP Paribas, showcase your abilities and find out what a potential career with us is like. It is specially designed for penultimate-year students who will be hired into specific business areas. Summer internships typically start in May/June and continue into July/August each year, depending on location (excluding Australia). As well as learning on the job, you will take part in event insights such as lunch & learn sessions, orientation, product and soft skills training, networking and community events. The application process is similar to that of the Asia Pacific Graduate Programme. Not only will this programme give you a taste of a banking career, but if you do well you will be directly considered for conversion into a full-time graduate role with us, which starts the following year.
Our People
At BNP Paribas, we offer an environment and working culture that enables you to grow and develop as you gain knowledge, so that you can prepare for success in the future. Regardless of which business area you choose, the programme teaches the skills needed to pursue your goals with confidence. But don't just take our word for it – read about the personal stories and experiences of people who have already completed the programme. And see how what they have learnt has equipped them for rewarding careers with us.
Click here to find out more!
How To Apply
Submit your application online at apacgraduates.bnpparibas.com
Graduate Programme application deadline (extended) : 31 January 2017
Summer Internship Programme application deadline: 30 November 2016
For Hong Kong based opportunities, please refer to the below job descriptions that are currently open:
If you have any problems while submitting your application, email us at [email protected]